Welcome to New York School of Flower Design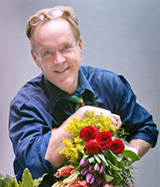 Our Flower Design School offers intensive floral design courses that introduce students into the world of the floral designer.
New York School of Flower Design offers students top design instruction along with the best floral classes in the country. The New York School is located in the heart of the New York Flower Market. Floral classes are all hands on with hundreds of flowers handed out each day. Students learn many styles of design from European and American to Classic and Contemporary. Our students enjoy all the excitement of the Big Apple while attending the best school in floral design. Pictures of student's floral design can be seen on our website. The school is located in the Chelsea area of New York with a view of the Empire State Building from the block. Its a great place to master your skills in floral design and a great place to enjoy all of New York. If you are interested in attending our school in New York, its easy. Register online or call us direct to register with Kim or Michael. The first day at New York School of Flower Design you'll be greeted with all the flowers, books, tools and containers you'll need to start your floral designing. Join us!
Click Here to Read More Call Us: 877-32-Bloom
Teaching all styles of Flower Design: Classic American, English, Contemporary, Bridal.
Take classes in Flower Design at our New York school or attend one of our 8 locations across the country